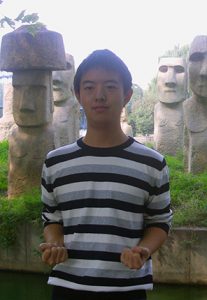 Mr. Feng Tian joined the Lab at 2014 as a PhD student via the CLS Program, after he got his Bachelor of Science degree from Beijing University of Aeronautics and Astronautics. Dr. Feng Tian won his Doctoral degree at Jul 2020, as the "Excellent Graduate" of Peking University.
Dr. Feng Tian is is currently working as an Assistant Research Fellow on transcriptional regulation and single-cell transcriptome.
Honors/Awards:
Excellent Graduate, Peking University, 2020
Excellent Research Award, Peking University, 2019
President Scholarship, Peking University, 2017
Special academic scholarship, Peking University, 2017
Innovation award (Academic), Peking University, 2017
Merit student of Peking University, Peking University, 2017
Feng is interested in movies, food and travel. Keen to get close to nature and feel the mysteries. Get used to a regular schedule. Personal motto: Be calm and listen to both sides.